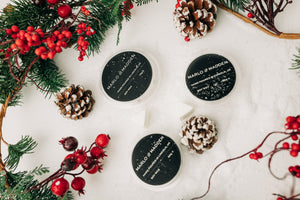 Following last years success, we have created the ultimate Holiday Season Wax Melt Bundle which includes a combination of our year round best sellers as well as our two best selling Christmas melts. This bundle provides £3 discount on RRP if you were to purchase the wax melts individually.
Description
100% Soy Wax Melts
Highly Scented 
One piece provides hours of scent for your home
75g net per pot 
Notes
Holiday Season Wax Melt Bundle includes:
1 x 75g Christmas Tree
1 x 75g Lime, Basil & Mandarin
1 x 75g White Christmas
Packaging
Pots are recyclable.
Instructions
Remove all packaging and place wax melt in the well of your wax burner. Use with an unscented tea light. Keep out of the reach from children and pets. Keep out of draughts. Do not move while lit. Never leave a burning candle unattended. 
Safety Information
May cause an allergic reaction. Read the label before use. IF ON SKIN: Wash with plenty of soap and water. If skin irritation occurs: get medical attention/advice. Keep away from children and pets. Toxic to aquatic life with long-lasting effects. Avoid release into the environment. Dispose of contents/containers in accordance with local regulations. Store out of direct sunlight, in a cool dry place.
In direct accordance with the European Regulation (EC) No 1272/2008 on Classification, Labelling and Packaging (CLP) (2009), details on the chemical composition and associated hazards of each fragrance contained within our products is provided on each individual packet of melts.
CLP
Christmas Tree - Contains 2,4-Dimethyl-3-cyclohexen-1-carboxaldehyde, alpha-Pinene. May produce an allergic reaction.
Lime, Basil & Mandarin - Contains Hydroxycitronellal, Linalool, Linalyl acetate, alpha
Hexylcinnamaldehyde,d-Limonene.
White Christmas - Contains 4-tert-Butylcyclohexyl acetate, Formaldehyde cyclododecyl ethyl acetal, d-Limonene. May produce an allergic reaction.
Click & Collect
Pick up is available Monday - Saturday between 08:00-20:00

Due to us being a small business, please email info@marloandmadden.com at least one hour before collection for confirmation the Click & Collect service is available at your preferred time.